2016 Club Clothing
Anniversary Range of Clothing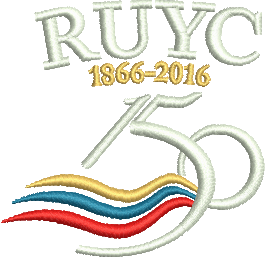 The Anniversary Range of Clothing is available with the 150th Anniversary logo.
Download - Anniversary Logo Order Form and return it to the Club Office.
Long Sleeved Shirts
Men's and Ladies' Polo Shirts
T-shirts 
Fleeces
Sweatshirts
Anniversary logo ties will be available to purchase from the Club Office
Samples of all Anniversary logo items are on display in the Hallway and in the Office.
Name of a Boat or Person added for an extra cost of £5 per item.
Anniversary Logo Clothing is available in the colours as stated on the Order form, ie. Sky Blue or Navy. No other colours can be ordered. The Range offered will not be extended.
Accessories (available to purchase from the Club Office)
Belts @ £14.99
Cufflinks @ £39.99
Ties @ £15.00
Mugs £8.95 ea or Set of Six, Boxed £50 saving £3.70
All orders for Club Clothing must be ordered from the Club Office on the Special Order Forms. Orders paid for at the time of ordering.  
Please note: Orders may take up to 4 weeks for delivery.